MGMT is most definitly one of the most promising bands at the moment. When I first heard their "Time to Pretend" I really found their music quite interesting, I've never heard something like that before. Their music is original, full of feeling and above all, incredibly stoned. Oracular Spectacular is their first album, and it really is a great debut.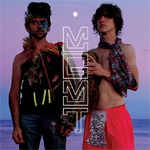 MGMT's sound is quite 60's or 70's, but with more electric sounds. It's funny to see that they also dress like hippies, and that the lyrics fit precisely in this view. I guess that the incredibly stoned sound also pushes me into the direction of the 60's and 70's, being quite famous for that sort of things.
The feeling in almost all songs is quite depressing, making it an album that you probably won't be completely playing a few times a day, but nevertheless, you should've heard it at least once. Time to Pretend is probably by far the best track on the album, but I also like Kids and Electric Feel (which sounds quite familiar… but I don't know why).
Yet again I've marked my favorite tracks. This also is the last weekly album, because I just can't make it weekly, and because I seem to find it pretty hard telling some interesting stuff about the artists and the album… Nevertheless, I will still try to post some album reviews with links to the songs and lyrics, but not on weekly base.
Tracks of the album:
1. Time to Pretend * Listen | Lyrics
2. Weekend Wars * Listen | Lyrics
3. The Youth Listen | Lyrics
4. Electric Feel * Listen | Lyrics
5. Kids * Listen | Lyrics
6. 4th Dimensional Transition Listen | Lyrics
7. Pieces of What Listen | Lyrics
8. Of Moons, Birds and Monsters Listen | Lyrics
9. The Handshake * Listen | Lyrics
10. Future Reflections Listen | Lyrics
Note: Most of the links do not provide the music as it is on the cd, and are mostly live performances. The videos on youtube may be deleted, but I don't have the time to check this and to refresh these links with working ones.
Evaluation
8/10
---
---
---