It's quite a while ago when I last used P2P networks like Kazaa to download files. The main reason for that was that it seemed to be packed with spyware and other nonsense I didn't want. A while ago this all changed because my favorite bittorrent client, Azureus, seemed to make my computer unstable, so I needed another client. I found Ares Galaxy, a p2p network and bittorrent client in one, and I'm really satisfied about it.
The special thing about Ares Galaxy is that it offers two filesharing methods in one: P2P networks and Bittorrent. When using this software, it occurred to me that these methods fill in for each other when needed. If you can't find the torrent of something, there's a big chance it's available on P2P and vica versa. So is useful to have both systems in one application. The next question of course is if this single piece of software is a good substitution for two seperate, specialized, pieces of software.
First of all the P2P Network part of Ares Galaxy. It quite resembles the functions of early Kazaa releases, but without ads. You can search with multiple searchterms at once, and after that it's just double clicking and it will download. In the transfer screen you can see how many peers are connected and who is sharing with you, the usual stuff. There's a preview option available which seems to work quite well on not fully downloaded P2P Network files, but it doesn't work on half downloaded torrent files. You can also use this function as a media player, but it isn't as good as a real media player.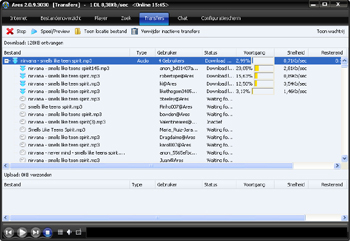 The transfer screen of Ares Galaxy which lists your downloads
To share files with the internet, Ares Galaxy uses a userdefined folder in which everything is shared with the world. You can also add some other folders on your computer as well. There's even an option to scan your whole computer for files that can be shared on the P2P network (doesn't sound very safe…). Ares Galaxy will conveniently arrange your files in categories, so you know what you're sharing and what you've downloaded.
As for the Bittorrent part of Ares Galaxy: it works. You can just open your torrents in Ares Galaxy, and the torrents will be downloaded like they should be. The torrents are listed in the same screen as your P2P transfers, and offer quite the same information. It's interesting to see that you can see the IP adress and the application he or she uses to download of everybody you are connected with. Downloading with torrents is everything but anonymous. Ares Galaxy really doesn't offer more options for torrents.
Something I do miss with the torrent part, is that you can select the files in the torrent you want to download. This seemed to be possible in Azureus, but I really can't find it in Ares Galaxy. Another options that some Bittorrent clients offer is remote access, which also doesn't seem to be possible with Ares Galaxy. On the other hand, Ares Galaxy does offer a few things in return for that.
One of the extra's is that you have an internet browser… well, actually it's Internet Explorer in a new window, but it can be usefull. If you change the Ares Galaxy preferences in a way that you get your favorite torrent website as homepage, you can directly start downloading torrents when you open Ares Galaxy. This saves a few clicks and some open windows in your taskbar. You can also use it to just surf around a bit while downloading of course…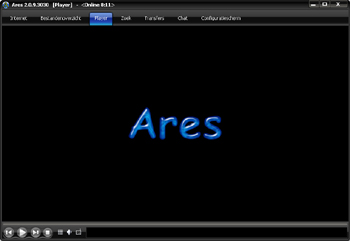 View of the Ares Galaxy media player which you can use to preview media
The other, real, extra is the possibility to use the Ares Galaxy media player as an internet radio. You can't search for radio channels like in Winamp, so you do need an url of your favorite online radio station.
Something that I wouldn't call an extra, but just useless is the possibility to open a P2P chat room. In the 21st century, with messenger services all over the web, this just isn't needed anymore… Unless you've got nothing to do and you're a little spam-minded of course.
So, what's the verdict? A fact is that both the P2P Network system and the Bittorrent system do work, they're only a little basic. But having both systems in one applications makes it ideal for people who use P2P networks at the moment, but want to use torrents once in a while. It also offers a solution for people who just want to use both filesharing methods, but don't want to use different programs for it. There's only one but… because Ares Galaxy only gives you the basic needs, it won't be suitable for advanced users who want to do things like remote access. On the other hand, it's ideal for people without much computer experience. The lack of options make this application easy to comprehend and easy in use.
Evaluation
9/10
Platforms
All 32 bit MS windows (NT/2000/XP)
Links
Website
Download Ares Galaxy (you'll need the .exe file)
---
---
---