Steal this Album is a name that says everything about the album. It's an anti-society themed album: asking people to do something illegal, namely stealing this album. It, on the other hand, can also be a message to their fans: don't download our music, as a lot of tracks on this album were pre-released (not by SOAD) in slightly different versions on the internet as Toxicity 2.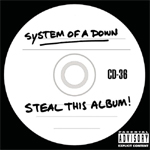 Back to the anti-society theme of the album. Most of the tracks are in fact against some facets of society, like "Chic 'n' Stu", which seems to disapprove the endless advertisments that we see everywhere, and "Boom!", an anti-war song. Also "F**k the system" (guess it's my favorite track on the album) fits perfectly in this theme.
The music itself on the album isn't very special, it's all very System of a Down, but the album lacks variation. There are some slower tracks, but most of them are very rough metal tracks without musically interesting or original sounds. This is one of the reasons that nearly everything on the album sound the same. It shouldo be said that this lack in variation also has the effect that the tracks mentioned above are directly noticed because they are slightly different and a little more interesting.
The album was probably released to make some statements to people about the world where we live in, and not to add new original sounds to the world of music. So musically speaking, this isn't the best SOAD album, and I think they even have put some B-sides planned for Toxicity on it, but the message they want to give to the world is quite clear. Songs like F**k the system, Boom! and Chic 'n' Stu are enough reasons to buy this album.
Again I've marked my favorites with an "*".
Tracks of the album:
1. Chic 'n' Stu * Listen | Lyrics
2. Innervision Listen | Lyrics
3. Bubbles Listen | Lyrics
4. Boom! * Listen | Lyrics
5. Nüguns Listen | Lyrics
6. A.D.D. Listen | Lyrics
7. Mr. Jack Listen | Lyrics
8. I-E-A-I-A-I-O * Listen | Lyrics
9. 36 Listen | Lyrics
10. Pictures Listen | Lyrics
11. Highway Song * Listen | Lyrics
12. F__k the System * Listen | Lyrics
13. Ego Brain * Listen | Lyrics
14. Thetawaves Listen | Lyrics
15. Roulette Listen | Lyrics
16. Streamline Listen | Lyrics
Note: Most of the links do not provide the music as it is on the cd, and are mostly live performances. The videos on youtube may be deleted, but I don't have the time to check this and to refresh these links with working ones.
Evaluation
7/10
---
---
---